Secure document shredding service
Price: $0.85 per pound.
Hours: Monday – Friday, 8 am to 4pm (closed holidays)
Service Options: Drop off at our Walters Family Campus at 451 E Lake Mead Pkwy in Henderson, or contact us for pick up.
Is the manual burden of shredding your documents causing you to shift your focus away from the essential areas of your business needs? Or, do you have stacks of sensitive documents sitting around your office because you simply don't have the time or energy to shred them on your own?
At PaperPros, we help you safely discard your sensitive business and personal documents with our cost effective, secured shredding service.
Our streamlined and safeguarded processes comply with state and nationwide privacy laws, keeping you protected by lowering your chances of fines and identity theft.
Accepted Materials
The following materials can be mixed: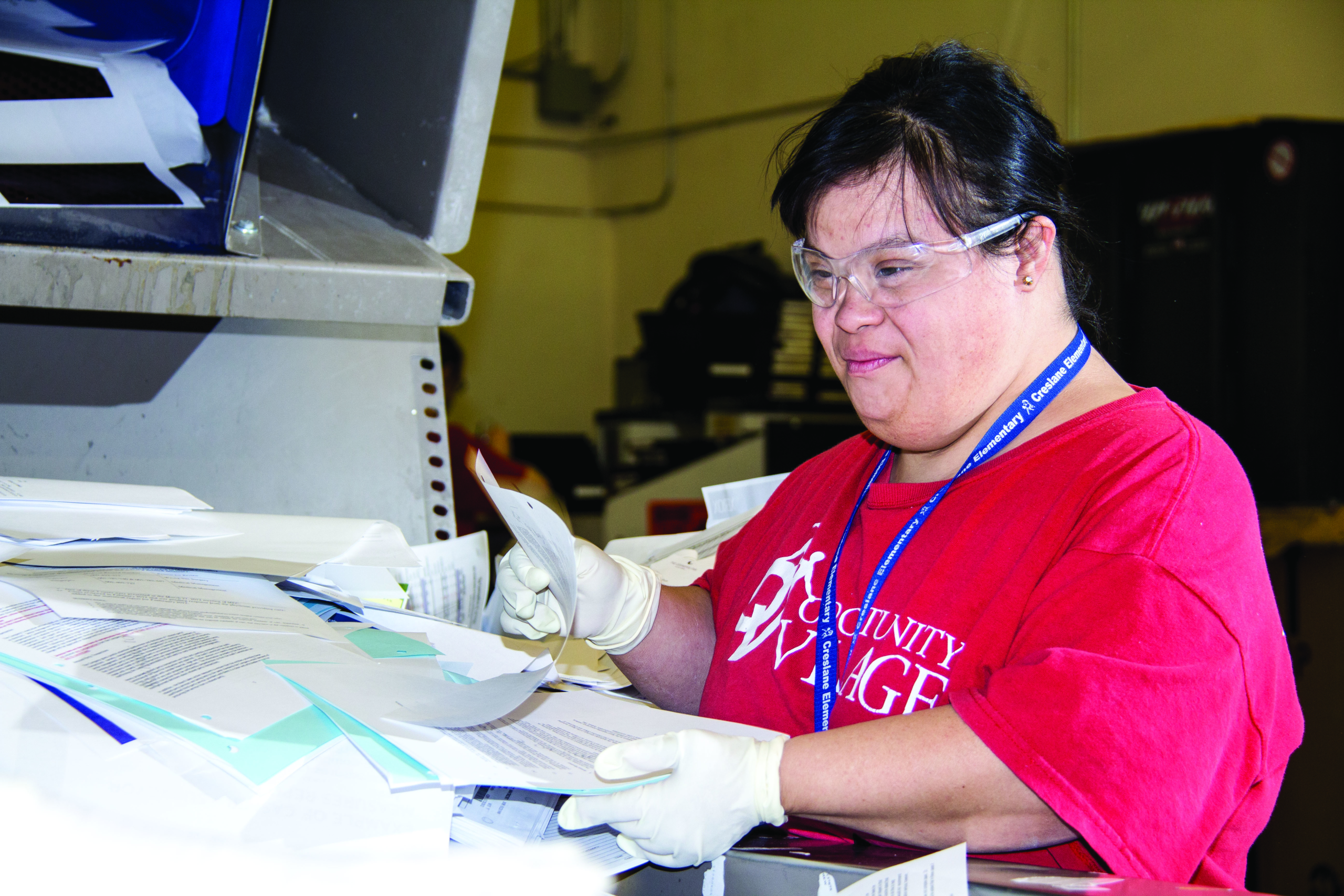 The following should be separated from paper materials:
Shredding Pick Up Service – Service Areas
Service Options
On-Going Regularly Scheduled Service
For businesses that generate a constant stream of documents that need shredding, our ongoing regular pick up service is the best option. We provide your business use of our containers and based on your needs, we will schedule a regular onsite swap out service.
Pricing starts at $34.00 per service

One-Time Pickups
Whether you're doing a clean out of old files or generate a smaller amount of documents for shredding, you may benefit from our banker box pickups for cleanouts of file rooms, storage units and more.
Pricing starts at $65.00 service fee + $1.50 per box
Bin Rentals
You can rent one of our large bins for a short period of time to assist you with large office or file room cleanout projects. Rental periods can be short as one day, up to two months and include drop off and pick up at the end of the rental term.
Pricing starts at $95.00
Shred Events
Reserve a truck for your business or community event to securely collect documents for shredding on location.
Pricing starts at $400.00 for one truck + 40 container minimum
Walk-In Drop-Off Service
Bring your documents that need shredding to our facility directly. No minimum volume and no appointment necessary. Credit/debit card payments only, no cash or checks accepted.
Location: 451 E. Lake Mead Pkwy. Henderson, NV 89015
Hours: Mon – Fri, 8am – 4pm
Pricing: $0.85 per lb. (credit and debit card only)
Additional Services
Hard Drive Destruction
Our electronic media destruction service uses the center, or sledgehammer, punch method for hard drive destruction. This preferred method is trusted because it destroys the data holding platters and works all hard drives up to 1.85' thick.
Pricing starts at $10.00 per unit, volume discounts available
Document Scanning
Along with our shredding service we also offer ongoing and one-time document imaging. The cutting edge technology we utilize includes black and white, grayscale and color scanning services.
Organize your documents with our document preparation, customized indexing, OCR functionality, cloud-based software and external device uploading.
Come and try our document scanning and see why we're a favorite of some of Nevada's top corporations.
On-Going Document Scanning Services
Accomplish workflow optimization through our ongoing document prep and scanning of active documents. Daily, weekly, monthly document pickups are available.
One-Time Archival Scanning Services
We can also help with one-time scanning projects with a set volume for digitization of long-term retention documents.
Capabilities
Reach out today for a quote on our shredding services or paper management services or call us at (702) 564-7400
Security Protocols
-All employees are subject to pre-employment background screenings.
-All Access Employees are subject to a renewed background screening every three years.
-All Access Employees are subject to security and compliance protocol training annually.
-On-site security personnel.
-Building access controls are in place to restrict entrance to areas of the facility where documents are processed.
-Over 30 security cameras recording footage 24-7 for exterior and interior operations. Footage is maintained for a minimum of 90-days.
-After hours, building alarm and motion sensor monitoring.
Access Employees are those staff who are authorized to enter secure areas of the shredding operation and to handle materials for shredding. They have completed NAID security paperwork training and are subject to background screenings every three years.
Opportunity Village holds AAA NAID Certification for facility-based document and media process destruction. Certification is for shred dimensions of a maximum width of 5/8th inch. Operations are conducted at 451 E. Lake Mead Pkwy. Henderson, NV 89015.
The NAID AAA Certification Program is a voluntary program for NAID member companies providing information destruction services. Through the program, NAID members will be audited for mobile and/or plant-based operations in paper or printed media, micromedia, computer hard drive destruction, and/or computer hard drive sanitization. Under this program, the certification application and associated fees cover only individual locations. If a NAID member operates in multiple locations, each location must pass the audit to be certified. NAID members who receive certification must specify the location certified in Company literature when referencing the NAID certification program.
SNHD Solid Waste Recycling Center Permit
The Opportunity Village Walters Campus holds permit #PR0037723 to operate a recycling center in Southern Nevada located at 451 E. Lake Mead Pkwy. Henderson, NV 89015.
HIPAA Compliance
OPPORTUNITY VILLAGE will handle any documents and materials containing protected health information ("PHI") in compliance with HIPAA standards, which includes: not using or disclosing PHI, using appropriate safeguards to prevent use or disclosure of PHI, and reporting to the CUSTOMER any use or disclosure of PHI of which OPPORTUNITY VILLAGE becomes aware of. To the extent applicable to this Agreement, OPPORTUNITY VILLAGE and CUSTOMER agree to comply with the Health Insurance Portability and Accountability Act of 1996, as codified at 42 USC 1320d ("HIPAA") and any current and future regulations promulgated thereunder including without limitation the federal privacy regulations contained in 45 C.F.R. Parts 160 and 164 (the "Federal Privacy Regulations"), and the federal standards for electronic transactions contained in 45 C.F.R. Parts 160 and 162, all collectively referred to herein as "HIPAA Requirements.", including the Health Information Technology for Economic and Clinical Health Act ("HITECH") that was adopted as part of the American Recovery and Reinvestment Act of 2009. OPPORTUNITY VILLAGE and CUSTOMER agree not to use or further disclose any Protected Health Information (as defined in 42 USC 1320d), other than as permitted by HIPAA Requirements and the terms of this Agreement. OPPORTUNITY VILLAGE and CUSTOMER shall make their internal practices, books, and records relating to the use and disclosure of Protected Health Information available to the Secretary of Health and Human Services to the extent required for determining compliance with the Federal Privacy Regulations.