OV Nevada License Plate
Have you seen the OV Love Nevada license plate? It's a beauty.
Stand out with these special plates designed by Sharen G., one of our talented Opportunity Village artists.
Order your plates today at the DMV. It's easy to request an OV Love license plate — in person or online.
We need to maintain 1,000 active registrations to keep our license plates in production. Will you help?
How to register your charity license plate:
Meet the artist behind your charity license plate: Sharen G.
Hailing from Long Island, NY, Sharen has called Las Vegas home for more than 25 years. She became involved with Opportunity Village over 10 years ago, and we've been having a blast together ever since.
To Sharen, Opportunity Village means good friends and a safe place to work on her art and dancing. She values the relationships she has with the staff and her peers.
Sharen enjoys bowling, dancing, and rooting for the Vegas Golden Knights and Silver Knights hockey teams. In quieter moments you'll find her working on her iPad or watching TV.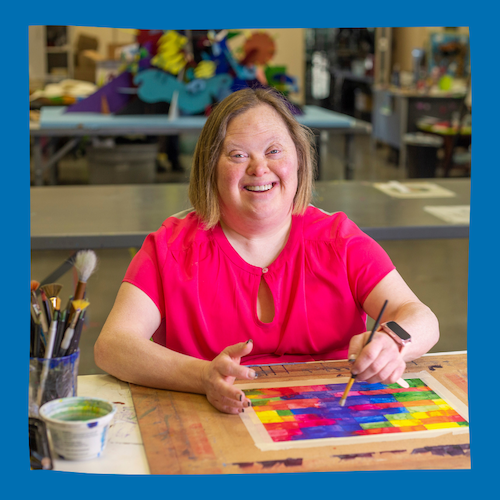 Where are the proceeds going?
By simply registering or renewing your Nevada license plate, you can make a real difference with your registration fees.
Help people with intellectual and developmental disabilities in your local Las Vegas area to live a better, more fulfilling life.
Your registration fees help people:
develop job skills
obtain long-term work experience
learn marketable job skills
gain independence
increase self-esteem
broaden their community and social interactions.
Meet the people you're helping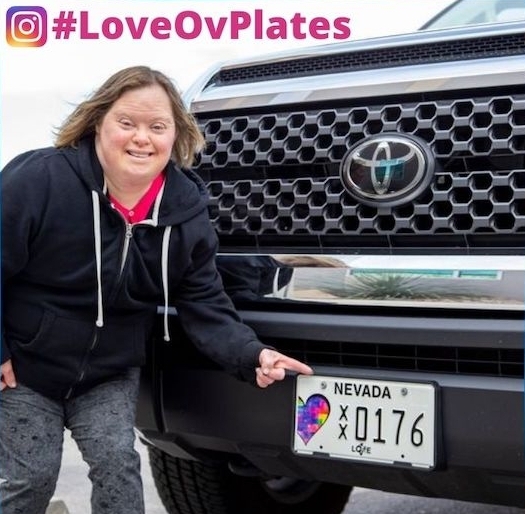 Once you've got these beauties on your car, please let us see them.
Use the hashtag #LoveOvPlates on Instagram.
We just love seeing them on the road.
Frequently Asked Questions
What's the difference between personalized plates and specialty plates?
webAdmkmj
2022-09-22T08:24:01-07:00
Applying for a personalized plate allows you to choose your own message (i.e. the lettering on your plate). You can apply to the Department of Motor Vehicles with your chosen message and, if it's approved, your plates will be made to order.
A specialty plate will have your message (which can also be personalized if you want), but the overall plate will have a different appearance.
A specialty plate has a purpose. It might be a charity license plate that supports a cause close to your heart, or a license plate for veterans or classic vehicles. A specialty plate can even support a particular organization you're involved in such as Firefighters, Nevada National Guard, or Scouting.
And in case you were wondering, a license plate can be both a specialty plate and personalized. Many people choose to personalize their specialty plate, and so the term 'personalized license plate' is sometimes used interchangeably.