Opportunity Village
Thrift Store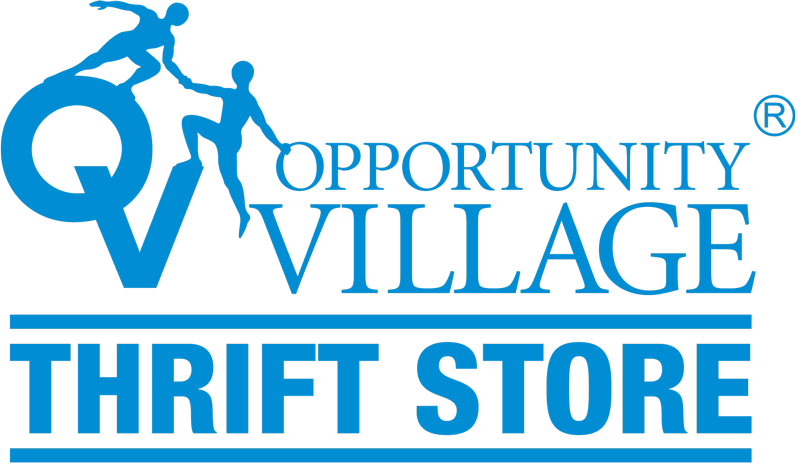 From bohemian chic dresser sets to rustic farmhouse kitchen tables, glamorous light fixtures to vintage wall art and more, savvy shoppers come back time and again to discover the unique and trendy offerings, that with the help of volunteers, make their way to our store!


At home and looking for one-of-a-kind treasures? Check out the OV Thrift Store eBay and Amazon shops!
Click the links below to shop.

Our donation sites provide no-touch donations. When you arrive during operating hours an attendant will unload donations.
Donation Sites:
Have more than will fit in your car?
Fill out the form below to request a donation pickup and an Opportunity Village Thrift Store team member will get back to you within two business days to schedule. This option allows for no contact donations! You can simply leave your donations curbside and our truck will come to pick it up from you. We can also pick up the items from you while practicing social distancing guidelines.

In 1962, eight years after Opportunity Village opened their doors, they acquired a business license to open a Thrift Store and help pay the teacher's salaries and continue their mission.
Now, over 60 years later, the funds raised at the Opportunity Village Thrift Store go directly to programs and services for adults with intellectual disabilities. It now serves as a training center for current people served Opportunity Village that are interested in pursuing a career in retail. The Thrift Store is the organization's oldest business and has a long-standing reputation for offering gently used items of the highest quality.
The Opportunity Village Thrift Store partners with the World Market Center and many local trade shows that graciously donate truckloads of the latest in home decor, furniture and more after their shows conclude. These brand new items are highly sought after when they become available to our customers and move very quickly.
The Opportunity Village Thrift Store needs your help to continue this tradition of receiving quality items and is always looking for help from Southern Nevada residents. Your donations benefit individuals with disabilities in this community and put many of them to work in jobs they love.
Contact Us