Your Guide to the 2023 Las Vegas Great Santa Run 5K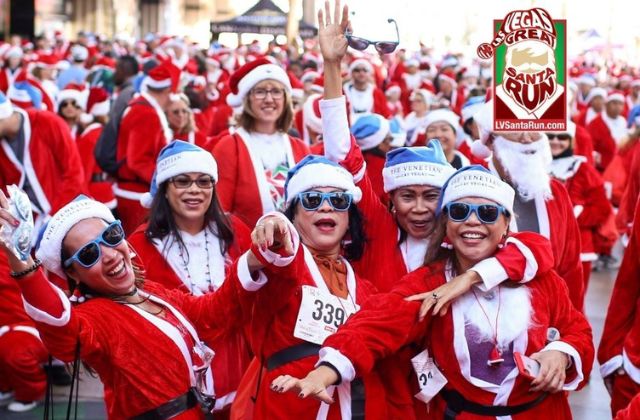 So, you're considering joining the fun for this year's Las Vegas Great Santa Run? Maybe you've already registered.
Thank you! Get ready for the best fun you've ever had in a Santa suit.
The iconic 5k run and 1-mile walk follows a downtown Las Vegas course. You'll pass all your favorite Vegas landmarks while reveling in the entertainment only Vegas can bring to the party.
And all while raising money to help adults with disabilities in our local community.
About the race
Let's dig a little deeper into this unforgettable Vegas tradition — once you've attended, you'll never want to miss it.
What's special about the race?
Now in its 19th year, the annual Las Vegas Great Santa Run is a staple community event. Come on down on December 2nd to see why it's grown to be amongst the world's largest gatherings of Santas.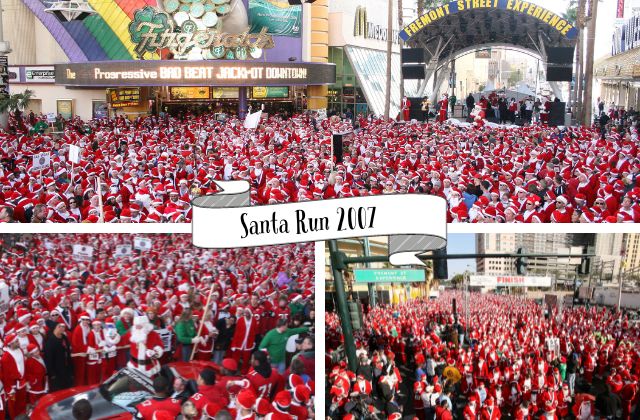 Celebrate the holiday season while raising money for Opportunity Village — supporting our mission of employing, empowering, and serving adults with disabilities in our community.
When else can you see a giant pack of Santas running through the streets of downtown Las Vegas?
Where do the proceeds from the race go?
All proceeds from the day directly support people with disabilities in Southern Nevada through Opportunity Village's tailored disability services.
Since 1954, we've been dedicated to helping people with disabilities find the very best version of themselves. Through workforce development, community employment, day services, inclusive housing, arts and social recreation, they can find new friends, realize future career paths, seek independence and community integration, and unleash creative passions.
Opportunity Village thrives with the funding from our social enterprises, signature events like the Las Vegas Great Santa Run and Magical Forest, and the generous philanthropy of our donors and community partners.
Together, we are successfully empowering, employing, and serving people with disabilities — positively impacting lives.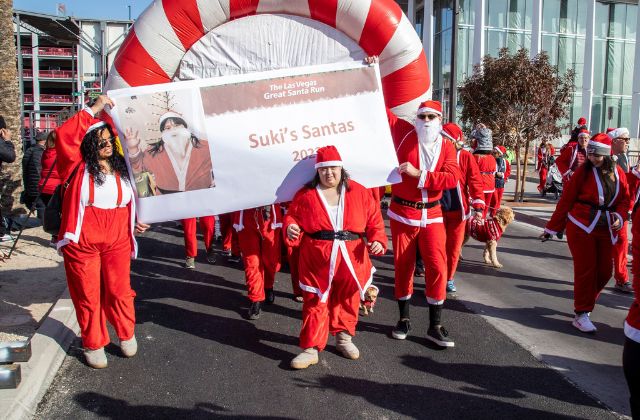 How else can I get involved if I don't want to race?
Not everybody wants to or can run or walk the course. Do you still want to help? There are a few ways you can.
Fundraising
Pass your virtual (or literal) hat around and raise much-needed funds for some of our most vulnerable locals. We even have prizes this year for fundraising!
You'll be entered into the draw for prizes with as little as a $5 donation. Prizes range from free hot chocolate at The Magical Forest to a three-day cruise in Baja, Mexico.
Volunteering
We always need help on the course and this year is no different. Whether you'd like to help us deliver race packets in the lead-up or prefer to show up on the day to help things run smoothly, find out more about volunteering to support the race.
We also run a lot of entertainment over the day — do you have a band or want to donate your talents to the pre- or post-race festivities? Get in touch!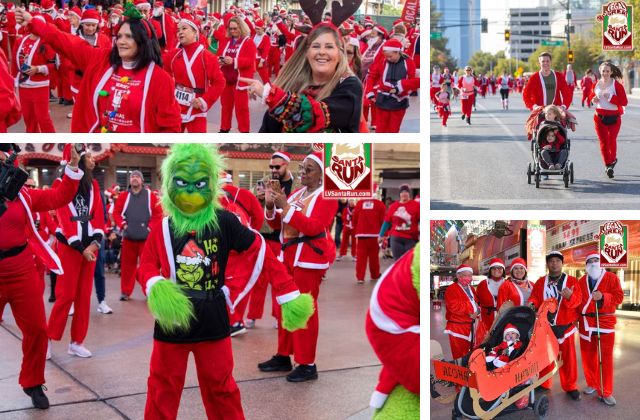 Frequently asked questions
Can I bring my dog?
We don't forget about our four-legged friends — pets are welcome to attend and even race with you. Your $10 pet registration includes a pet swag bag.
How do I get the Santa outfit?
When you pick up your race packet, you'll receive your Santa suit to join the other jolly Santas on the course.
While supplies last, registration includes:
a five-piece Santa suit
your finisher medal
the swag bag…
…and the chance to experience this memorable event.
Will there be water on the course?
Yes. We'll have water on the course. You'll also have access to water beforehand in the festival grounds. And there'll be a post-race party — so be sure to stay for the festivities.
What's the prize for finishing?
When you cross that finish line, you'll get a Vegas-themed finisher's medal featuring a keepsake Santa pin.
Santa is reclining at rest on top of your medal — 5K is a long way in a Santa suit. He's earned a rest! And your medal is shaped like a playing card and features iconic Las Vegas landmarks. Santa's hat features the Las Vegas Great Santa Run logo, so you can remember the best day of the season for years to come.
How can I best prepare for the race?
First of all, remember that the day is all about fundraising for a good cause and having a great time. No need to take anything too seriously. But here are some things you can do to help you through the 5K.
(These are sample plan ideas and you should check with your physician before starting any new exercise program.)
The day before
Stretch and relax: Spend some time stretching or maybe doing light yoga. It'll help you stay flexible. Also, be sure to get a good night's sleep.
Check the weather: Nevada can get cold in December, so dress in layers if needed to stay warm. Don't forget a hat!
Hydrate: Drink water throughout the day — dehydration can zap your energy.
Eat some carbs: Have a balanced meal with carbs like pasta, rice, or potatoes. It's fuel for your run.
Plan your race: Get to know the course, but don't overthink it.
On race day
Easy morning: Wake up without rushing, but give yourself plenty of time to spare.
Balanced breakfast: Eat a light breakfast with carbs and some protein. Stick to what you know.
Stay relaxed: Take some deep breaths if you feel a little unsure. Imagine a leisurely jog with friends (and plenty of fun along the way!)
Hydrate: Sip water, don't chug. No need to stress about perfect timing.
Start calm: Begin at an easy pace — it's not a sprint!
Follow the flow: Stick to the course, enjoy the surroundings, and take it easy.
Finish with a grin: As you spot the finish line, give it a little kick, but don't strain yourself — there's still the after-party to enjoy next.
What are some things we can do after the race?
Join us for a celebration. Nobody knows how to party like an oversized group of happy Santas in Vegas (who've just raised much-needed funds for locals in need). We want to celebrate your accomplishments and say thanks for helping the community, so join us for a festival-like party after the race.