Donate Goods to Support Nevada Locals
You've found a thrift store with a difference. People come from across the Vegas Valley looking for high-quality, gently used wares.
A portion of every dollar spent goes toward our programs — helping people with intellectual and developmental disabilities into jobs they love.
Will you donate goods to help us continue our critical support work?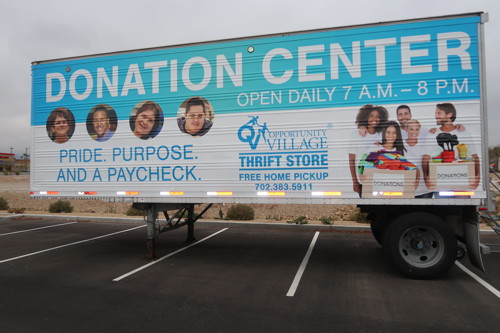 What Kind of Goods Can You Donate?
We appreciate your donations. Do you have something to donate that's in great condition with no damage and in good working order? Here's a list of items we need.
(Do you have something in excellent condition that isn't listed? Bring your item down! We're happy to accept things in great condition.)
How and Where to Donate Goods
Drop off your goods
*** In case of extreme heat during the summer months, our Crossings Church donation location will close for the day. Please give us a call for a donation pickup, we're happy to help an appreciate your support!
Opportunity Village Thrift Store
Open 7 days a week, 9am – 5pm
390 South Decatur Blvd, Las Vegas NV 89107
The Crossing Church
Open 7 days a week, 7am – 2pm
7950 W. Windmill Ln. Las Vegas, NV 89113
Request a pick-up
If you can't bring your goods to us, you can request a donation pickup.
Here's what you need to know about a pickup:
We can take what will fit in a 26-foot box truck
As long as there are no stairs, we can pick up from a residence or business
We service specific areas on particular days, Mon-Fri 8 am-2 pm
Areas served include Las Vegas, North Las Vegas and Henderson
Complete the form below if you're ready to request a pickup. We'll schedule a time with you.
Here's our phone number for questions 702-383-5911
Request a Donation Pick Up
What Happens to Your Donations?
Why Donate to Opportunity Village?
We've been thrifting your favorites since 1962. For over 60 years, our thrift store has supported Las Vegas locals with intellectual and developmental disabilities.
Adults with disabilities deserve the same dignity, respect and opportunities that many of us take for granted. Across the Las Vegas Valley, we're working hard to keep some of Nevada's most vulnerable citizens safe, engaged, and well cared for.
With your support, they will:
develop job skills
obtain long-term work experience
gain independence
increase self-esteem
broaden their community and social interactions.
The funds raised go directly to our support programs. And the thrift store is a training center for the people we serve who wish to develop a career in retail.
The people we support have found more independence, improved self-esteem and a safe place to be themselves.
Frequently Asked Questions