Opportunity Village hosts beam signing at Betty's Village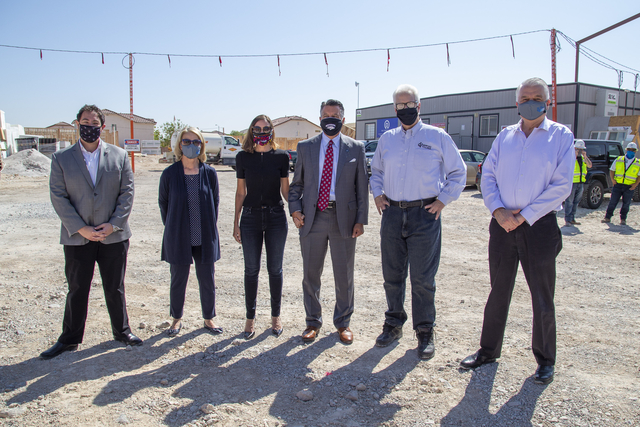 Opportunity Village celebrates the individuals helping to make Betty's Village take shape by hosting a beam signing event at the construction site.
Pictured Left to Right: Commissioner Michael Naft, Nevada Secretary of State Barbara Cegavske, OV Board Member Lauralyn Sandoval, former Governor and the University of Nevada, Reno President Brian Sandoval, Opportunity Village CEO and President Bob Brown, and Governor Steve Sisolak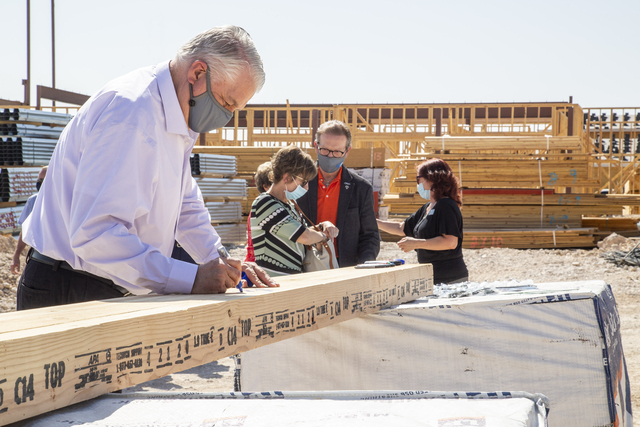 Governor Steve Sisolak was the first to sign the beam for Opportunity Village's residential community, Betty's Village, followed by Opportunity Village board member, Cliff Miller and his wife Darlene.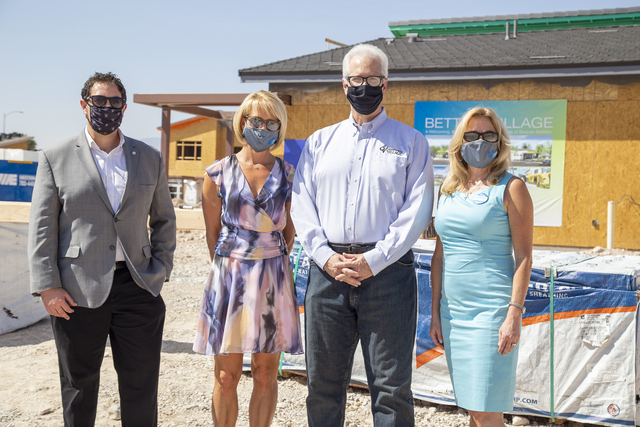 Commissioner Michael Naft, Opportunity Village Board Member Lee Haney, Opportunity Village President and CEO Bob Brown, and Opportunity Village Board Member Kimberly Maxson-Rushton poses in front of the future site of Betty's Village.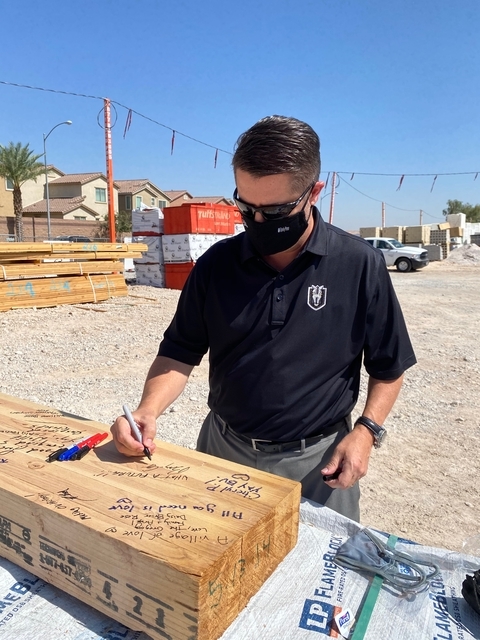 OV Board Member and Chief Financial Officer for the Vegas Golden Knights and Henderson Silver Knights, Bryan Coy signs beam.
LAS VEGAS – On Thursday, September 24, 2020, Opportunity Village hosted a beam signing event at the future site of Betty's Village. The private event welcomed over twenty guests including Governor Steve Sisolak, OV board member, Lauralyn Sandoval, her husband – former Governor Brian Sandoval, and former Opportunity Village CEO, Edward Guthrie. Among those celebrating were numerous Opportunity Village Board Members and generous donors to the project.
Opportunity Village CEO and President, Bob Brown said to the individuals attending the event, "I want you to think about the fact that for prosperity, your name is going to be on this beam surrounded by people with wondrous and joyful lives."
Betty's Village is a unique community concept that will make the dream of independent living a reality for hundreds of individuals with intellectual and related disabilities. Construction of the residential housing project started earlier this year and is scheduled to be complete in May of 2021. There is already a growing interest list to be among the first to move into the development and residential candidate assessments will commence soon.
Governor Steve Sisolak, stated "this means so much to the families, to give them security and peace of mind knowing that there will be a great place for their families and loved ones to live and I couldn't be happier and I couldn't be more proud of what you have done here. You have done amazing work. On behalf of the entire State of Nevada, thank you so much for what you do." Sisolak was honored at the 2017 Opportunity Village Camelot Gala for his commitment to the organization and the people it serves.
View additional photos from the event here: https://drive.google.com/drive/folders/1B5_QLs6zUnyxZR4qjKWIOFuB7QLCohU6?usp=sharing

About Opportunity Village
Mission: Opportunity Village is a not-for-profit organization that serves people within our community with significant intellectual disabilities, to improve their lives and the lives of their families.
Seven families who were determined to give their children with disabilities the best lives possible founded Opportunity Village in 1954. Now, more than six decades later, Opportunity Village is one of the most recognized and respected organizations of its type in the United States.
Nevada's largest employer of people with disabilities, Opportunity Village serves nearly 2,000 individuals annually, providing vocational training, employment, habilitation and social recreation programs and services that make their lives more purposeful and interesting.
Opportunity Village citizens – individuals who were previously considered unemployable – work at Opportunity Village's Employment Resource Centers and in jobs throughout the community, collectively earning wages amounting to more than $3.7 million in 2016.  They are hardworking and diligent, proudly paying taxes and happily leading more fulfilling lives.
Primarily a self-funded organization, Opportunity Village generates the majority of its operational funding through its employment contracts and fundraising efforts such as the Magical Forest and Great Santa Run, saving Nevada taxpayers more than $37 million annually.


PRESS CONTACTS
Jenna Greene, R&R Partners
Jenna.greene@rrpartners.com
702.228.0222 / 702.318.4289
Marty Wood, Opportunity Village
woodm@opportunityvillage.org
702.234.5322