OV hosts second drive-thru parade for clients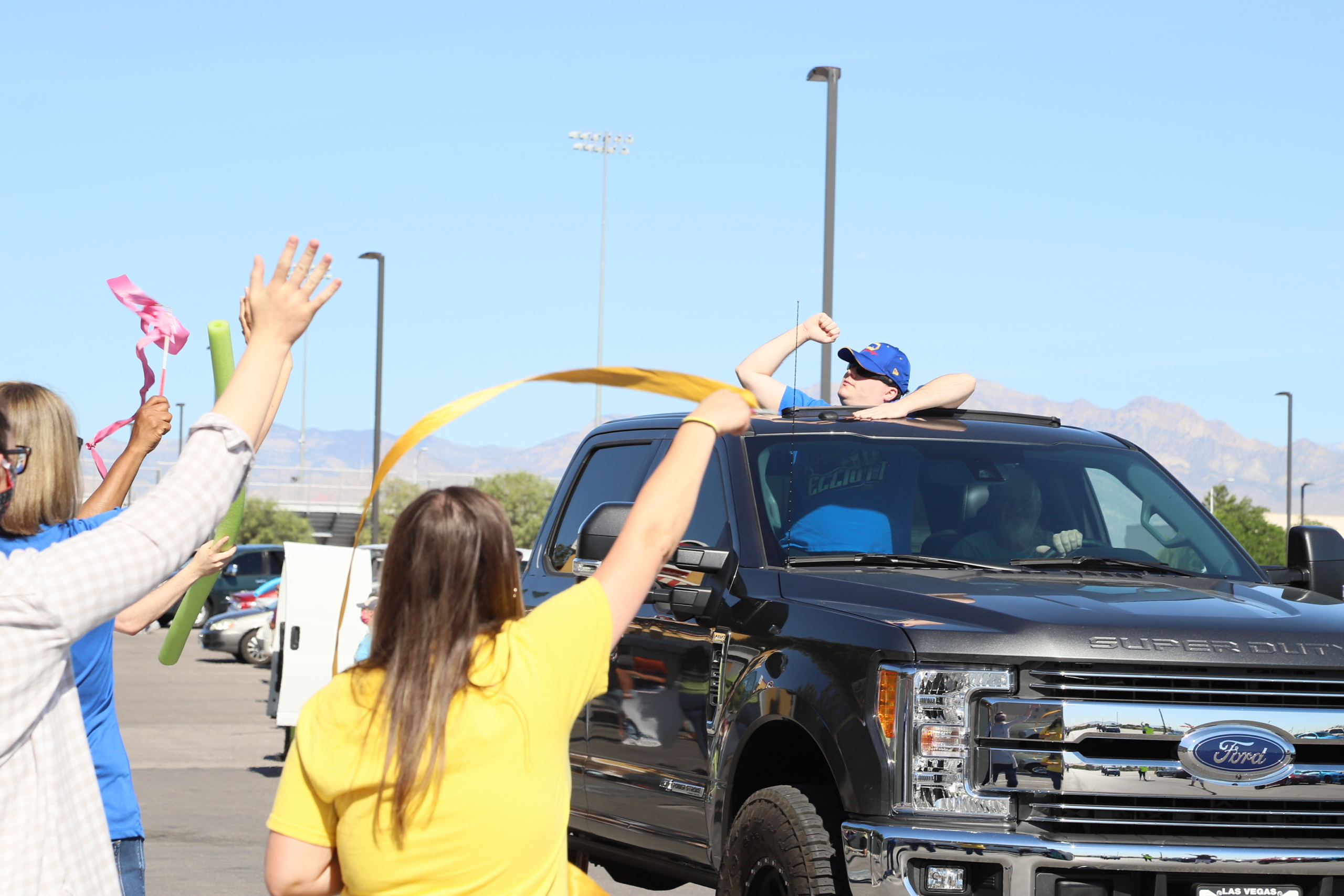 LAS VEGAS – On Wednesday, May 27, 2020, Opportunity Village hosted a drive-thru parade at the Oakey Campus right outside the gates of the Magical Forest where employees of the organization waved signs and cheered as individuals served by the organization drove by with their families and caregivers.
The staff members wanted a chance to show the people they used to see every day, in the programs and services at Opportunity Village, just how much they missed them.
Clark County Parks and Recreation's Mobile Dance Party joined in on the fun by playing music and dancing for the cars as they drove by.
Opportunity Village hosted a parade at their Ralph and Betty Engelstad Campus on May 21.
View additional photos from the event here: https://drive.google.com/drive/folders/1Rf8K-jKshP1-pKhYu-zznM9nTjMhPdYH?usp=sharing

About Opportunity Village
Mission: Opportunity Village is a not-for-profit organization that serves people within our community with significant intellectual disabilities, to improve their lives and the lives of their families.
Seven families who were determined to give their children with disabilities the best lives possible founded Opportunity Village in 1954. Now, more than six decades later, Opportunity Village is one of the most recognized and respected organizations of its type in the United States.
Nevada's largest employer of people with disabilities, Opportunity Village serves nearly 2,000 individuals annually, providing vocational training, employment, habilitation and social recreation programs and services that make their lives more purposeful and interesting.
Opportunity Village citizens – individuals who were previously considered unemployable – work at Opportunity Village's Employment Resource Centers and in jobs throughout the community, collectively earning wages amounting to more than $3.7 million in 2016.  They are hardworking and diligent, proudly paying taxes and happily leading more fulfilling lives.
Primarily a self-funded organization, Opportunity Village generates the majority of its operational funding through its employment contracts and fundraising efforts such as the Magical Forest and Great Santa Run, saving Nevada taxpayers more than $37 million annually.
PRESS CONTACTS
Jenna Greene, R&R Partners
Jenna.greene@rrpartners.com
702.228.0222 / 702.318.4289
Marty Wood, Opportunity Village
woodm@opportunityvillage.org
702.234.5322