Top 10 Ways You Can Donate to Charity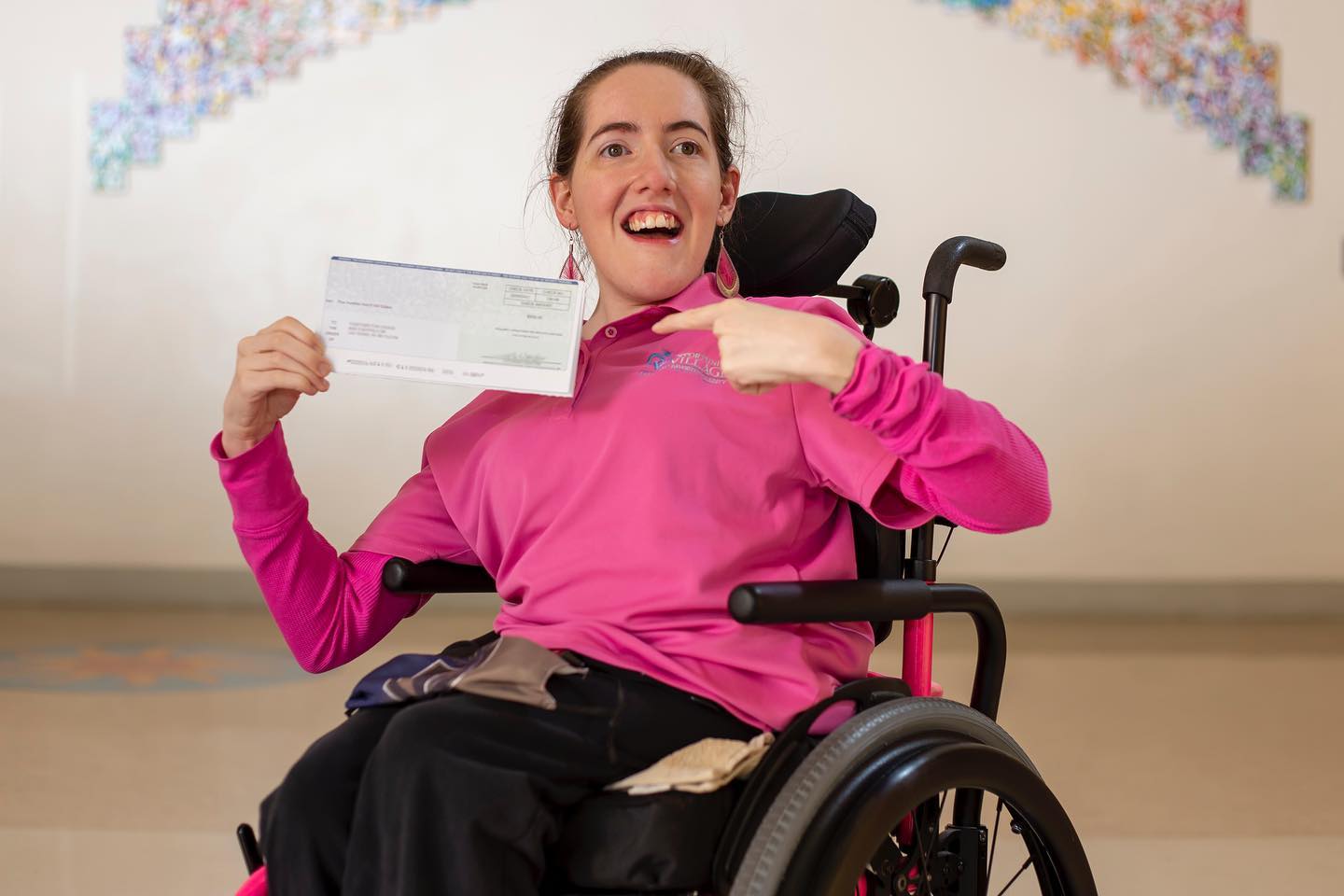 ---
Supporting your favorite charity has never been more important. Whether you have spare funds or just some spare time, you can make a real difference.
But if you're wondering how you can donate to charity, read on. We'll take you through our top 10 ways to donate to charity, from simple cash donations to legacy gifts or even donating your old car.
Let's jump right in.
---
In summary: Top 10 ways you can donate to charity
Donate money
Volunteer
Give items to thrift stores and food pantries
Set up a private foundation
Give through a donor-advised fund
Leave a legacy or donate shares
Use a charity-run service
Donate your car
Get involved in a fundraising event
Join a giving circle
---
Before we take a closer look at these, let's talk about why donating to charity is so important.
Why donate to charities?
A charity usually exists because a group needs support but are not getting enough of it elsewhere. There is an unmet need or not enough support by traditional means.
So when you give to charity, you allow that organization to carry out essential support work. Whether it's helping homeless teens or people living with a disability, your donation empowers someone to improve their circumstances. And without donations, these organizations and support systems simply wouldn't exist as they do today.
Of course, it's not just about making a positive impact on your community. When you support a cause that matters to you, it can make you feel good too.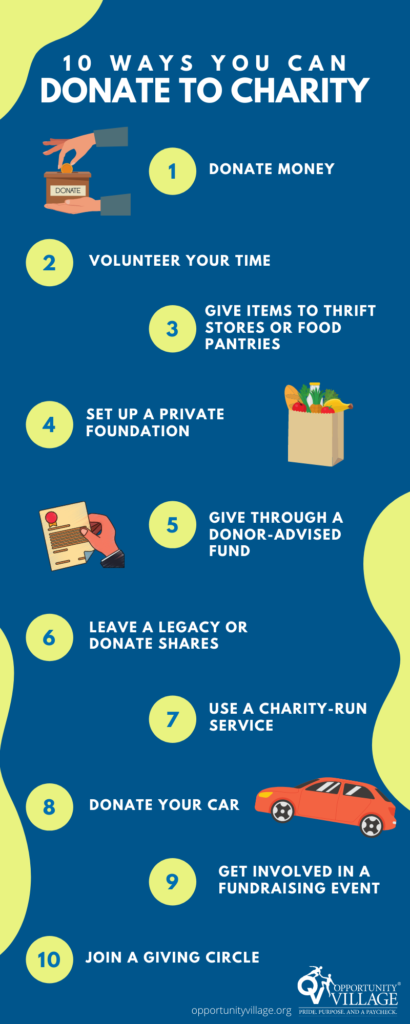 The uplifting effect of donating to charity
There are many good reasons to support a cause that's important to you. Here are four of the biggest benefits.
You'll probably feel better. Research by the Charities Aid Foundation (CAF) found that 42% of respondents cited the enjoyment they receive from giving as a key influence.
You can start teaching your kids the importance of giving. When your children see you giving selflessly to others in need, they'll learn to do the same. Now that's a ripple effect we can get behind.
You'll socialize and become part of a community. Volunteering with like-minded people can help you learn new skills among a group of people who care about the same cause. What else might you have in common? You may find yourself with some unexpected new friends.
You might even save money come tax time. There are many ways you can donate to charity that are also tax deductible at a state and federal level.
Sounds pretty good, doesn't it? Now let's look at the different ways you can donate, and find one that's perfect for you.
Donate money
Whether you give online or whip out your checkbook, sending money can be a great way you can donate to charity.
Some people still prefer the certainty of writing a check and handing their donation over in person. Others who live a more digitized life may prefer to donate online.
There can be a benefit to giving online. Some crowdfunding platforms attract a lot of donations in a small timeframe. Combined, many small donations add up to a lot. You can help make significant positive change.
And by sending money (rather than goods), you allow the experts to decide how that money is best spent. Imagine a young woman with an intellectual disability who, because of her pre-vocational training, is now in a job that pays her well enough to live more independently. What supports or services would make her life less stressful? You could take a stab, but it probably wouldn't be perfect. Her specialist support service will know.
Volunteer
Another way of donating to charity is almost as simple as donating money: you can donate your time by volunteering. (Note we said, 'almost as simple'. We know it's not always easy when you're time-poor.)
Volunteering is a powerful way to contribute to your community in a meaningful way. Whether you can offer applicable skills or training, or simply have spare time and are willing to roll up your sleeves and help, you can make a big difference.
What's more, there are science-backed benefits of volunteering that improve your physical and mental health.
Is there an organization you'd like to support? Get in touch and ask about volunteering. There are many different ways to volunteer these days, and it can be done in person or online. Whether you have regular time to give or it's just a one-time offer for now, your chosen charity will be grateful for the support.
Give items to thrift stores or food pantries
Maybe you have some material goods in excellent condition, or even new? You can donate these to a thrift store or food pantry.
If you're donating items to your favorite thrift store, make sure they're in excellent condition. Sometimes thrift stores are flooded with well-intentioned donations they can't actually sell, and then have to dispose of themselves. According to Newsweek, 84% of unwanted clothes end up in landfill. That's pretty shocking, isn't it? The overconsumption of fast fashion is also a growing environmental problem.
But don't let that put you off. If you have clothes, toys, furniture or appliances in excellent condition, many thrift stores are in greater need than ever. A great way to donate unopened, in-date food is to find your local food pantry.
Set up a private foundation
Setting up a private foundation for your charitable activities is a way you can donate to charity for long-lasting impact. And you don't need to match the Rockefellers to start your own foundation. There are times in your life (even after your death) when this can be particularly beneficial. Let's go through them briefly.
Selling your business
When you donate shares of a business to a private foundation, you can reduce your income and/or estate tax liabilities. The foundation can hold both privately held and publicly traded stocks indefinitely (unlike donor-advised funds). When the foundation sells the stock, there will be a nominal excise tax of 1.39% to pay on the net gain.
Liquidity event
Whether you have been bequeathed an inheritance, won a court a judgment, or even won the lottery, you can set up a private foundation to share your good fortune and reduce your tax liabilities. You don't even need to have received money. You can fund your foundation with donations of valuable goods, real estate, intellectual property rights and stock.
You're retiring
Share your hard-earned gains with a cause that means something to you. When you contribute assets to a private foundation, they're excluded from your estate. And that means (you guessed it) they're not subject to federal or state estate taxes. This may be a way for you to create a lasting philanthropic legacy.
Whatever you do, you'll need sound legal advice and a good support team to discuss arrangements. Foundation Source is an excellent resource to kickstart your learning.
Give through a donor-advised fund
A more accessible alternative to setting up your own private foundation is to give to a donor-advised fund. In this arrangement, a charitable giving account is sponsored by an organization.
You add your donation (from as little as $5000), and the sponsoring institution manages it by investing your donation. You then make grants from your asset.  You also decide where your donation will be sent, and will probably still enjoy a charitable tax deduction.
Leave a legacy or donate shares
By donating shares or leaving a legacy, you can have a lasting positive impact on your charity of choice. It's a way you can donate to charity that keeps on giving long into the future. It also comes with numerous tax and financial benefits for you and your estate.
There are some significant considerations to keep in mind, and how you manage your donation will depend on your circumstances. At Opportunity Village, we have four main ways you can leave a legacy.
● IRA charitable rollovers
● Gifts of stocks or bonds
● Beneficiary designation gifts
● Bequests
However you choose to donate, make sure you get solid financial advice beforehand so you understand the implications of giving in this way.
Use a service run by a charity
There are many everyday services run by charities that you may find useful (or are using already). Does your business have boxes of old documents to destroy? Are you organizing an event that needs catering? Maybe you require grounds maintenance or janitorial services.
When run by a charity, these services usually provide reliable employment to the people it serves. But to these people it's more than just a job. Regular employment also gives them independence, self-esteem, motivation, material success, and purpose.
If you're not sure what services you might find useful, here are some of the business services we offer:
Assembly and Packaging
Custom Disposable Cutlery Packets
Custom In-room Coffee and Condiment Packets
Promotional Buttons
Printing and Mailing
Document Shredding
Document Imaging
Janitorial Services
Grounds Maintenance
Wholesale Cookies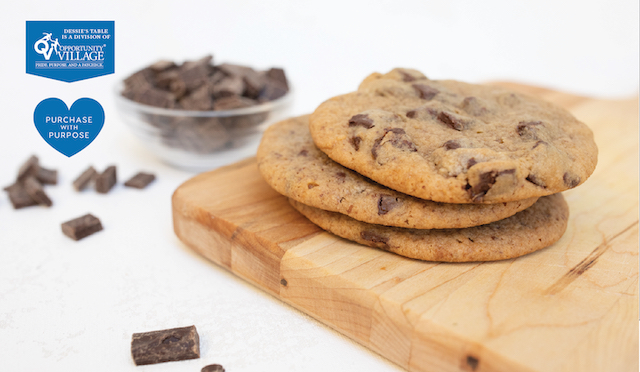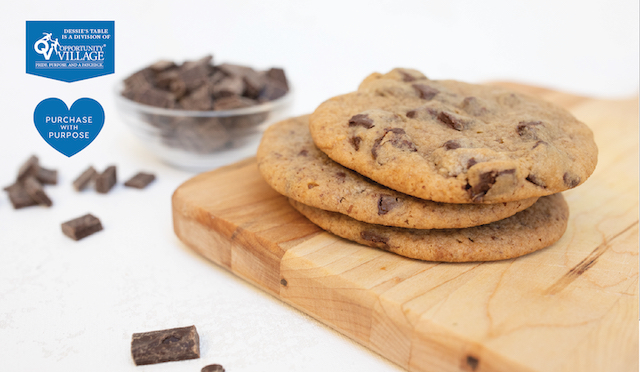 Working with a charity for something you need anyway is a true win-win, and an easy way to donate to a charity close to your heart.
Donate your car
Do you have a running vehicle you'd like to move on? Why not donate it to a charity, and then deduct the fair market value at tax time?
At Opportunity Village, we can even pick up your vehicle. It couldn't be easier. We accept cars, trucks, vans, motorcycles, recreational vehicles, and anything else that's motorized — even golf carts.
A word of warning: beware of car donation scams. Make sure you're dealing with a reputable organization.
Get involved in a fundraising event
Don't underestimate the impact of getting involved in a fundraising event. For many charities, these events are the backbone of their annual funding.
Our own signature events (such as the Magical Forest and the Las Vegas Santa Run) allow us to provide programs and services to nearly 3,000 people with intellectual disabilities at no cost.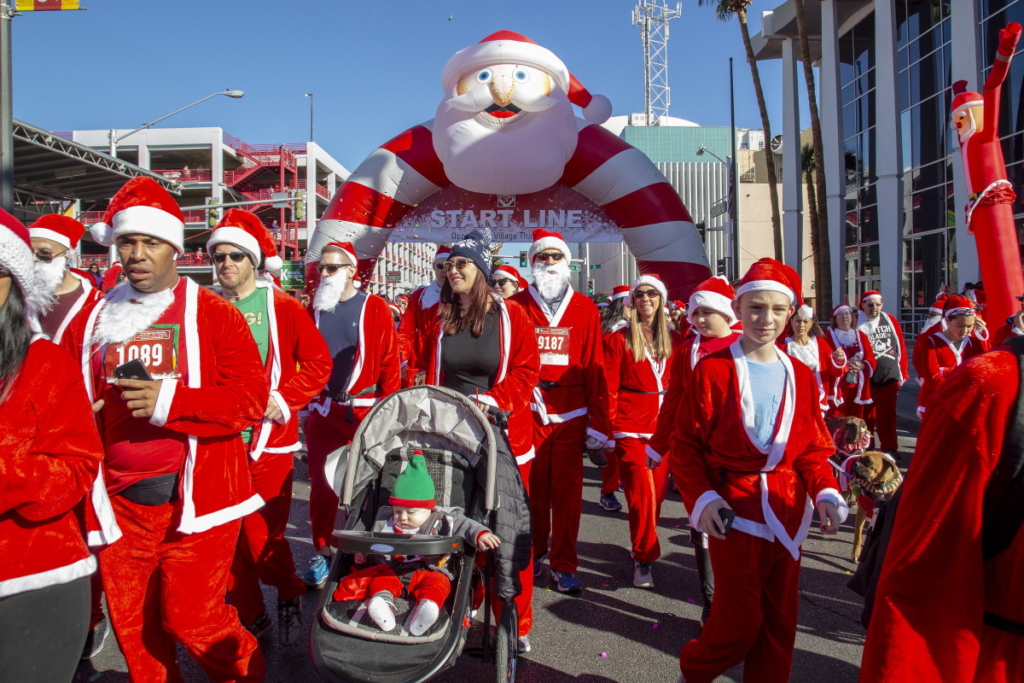 Your gift of attendance can have a powerful impact.
Join a giving circle
A giving circle is essentially joining a like-minded group to pool money together, and then using it to empower others. While some groups have become national organizations, your giving circle can be a small local group run out of someone's garage. They're one of the newer ways you can donate to charity, and they're rapidly growing in popularity.
If you're not sure where to start, the Asian Americans / Pacific Islanders in Philanthropy (AAPIP) has some great information.
Feeling inspired to find ways you can donate to charity?
You're inspired to give some of your time, goods, or hard-earned money. Would you like to support people with intellectual or developmental disabilities to live a more fulfilled life? We can help. Here are a few ways to support us and the people we serve.