Outsourced Kitting and Assembly Services in Las Vegas
Opportunity Village offers valuable packaging and assembly solutions to a broad range of industries, from automotive to medical and everything in between. Our in-house Assembly Authority team can handle your packaging and general assembly issues and provide timely and cost-effective solutions.
No project is too little or big. Our team handles a wide variety of outsourced assembly tasks, from light manufacturing to detailed packaging and kitting services. We take pride in completing the job on time and to your specifications.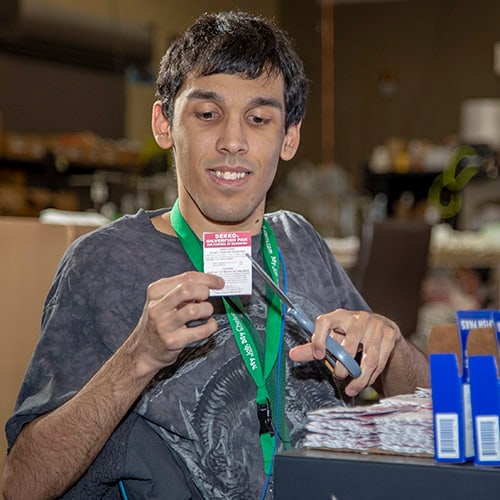 What's the difference between assembly and kitting?
At this stage, you may have questions about what's involved in assembly and kitting. Let's take a closer look at the differences between our assembly and kitting services so you can choose the best solution for your business.
Assembly
Assembly workers are responsible for putting together the various parts of a particular product. Their job may involve assembling one set of components or the finished product, such as phones and computers.
We use an assembly line to complete assembly services in bulk, which involves many workers doing a single task and passing the product down the line to the next worker until the product is ready for sale.
The advantage of using an assembly line is that multiple items can be made quickly and more efficiently.
Kitting
The kitting process involves workers bundling two or more similar items to create one ready-to-ship kit sold as a single item. Unlike assembled products, the items in kits are put together by the consumer. Examples of products frequently packaged in kits include cosmetics, subscription boxes, direct mail kits, and furniture.
Kitting is often used to make inventory management more straightforward and cost-effective.
Outsourcing kitting and assembly to a third-party provider like us can help free up more time and resources, plus deliver faster service to your valued customers so that you can focus on your core business.
Our Services
Our skilled and dedicated employees are trained to work on all types of hand assembly and kitting, from putting together swag bags for events, to shrink wrapping and kitting, de-kitting, and packaging. All jobs are completed at our Employment Resource Centers across all four campuses, so you can rest assured that a high standard and quality assurance are maintained.
Kitting, de-kitting, and packaging/component kitting
Wire harness
Custom component and identification labeling
Light assembly work – electrical and mechanical assemblies
Heat sealing
Shrink wrap packaging
Examples of Assembly and Kitting Projects
Examples:
Coffee kits – supplied by many hotels to guests as a complimentary add-on
Cutlery kits – convenient for accommodation and hospitality businesses
Cable management – a service to sort and organize returned remotes and cables
Swag Bags – delight attendees at events and trade shows with gift bags
Rainbow packs – used to bundle like products, such as six flavors of a drink into a single package
COVID test kits – convenient packaging of all the parts needed for at-home testing
Amenity kits – a collection of personal care items placed in a pouch for long-haul or international flights
Late-stage customization – adding dates, codes or barcodes to a final product, such as food and beverage items
Fluid kits for big rigs
Who We Serve
Assembly Authority provides service to companies – both big and small – in Nevada and throughout the US. We're a trusted pair of hands in the kitting and assembly services field and have worked with many industries, such as:
· Hotels (resorts)
· Trade shows/expos and the companies that exhibit
· Cable television companies
· Healthcare and medical
· Automotive
· Electrical services
Why Work With Us?
At Opportunity Village, we focus on removing barriers preventing individuals with intellectual or developmental disabilities from finding and keeping gainful employment.
Our Assembly Authority service is one of the many ways we provide opportunities – and a paycheck – to those with different abilities.
Choosing to work with us means you are advancing the job prospects of a group of people with the skills and training to deliver a job well done.
Want to find out more or get started? Complete the form below or call (702) 880-4030, and we'll be in touch!