Where to Go for Disability Support Services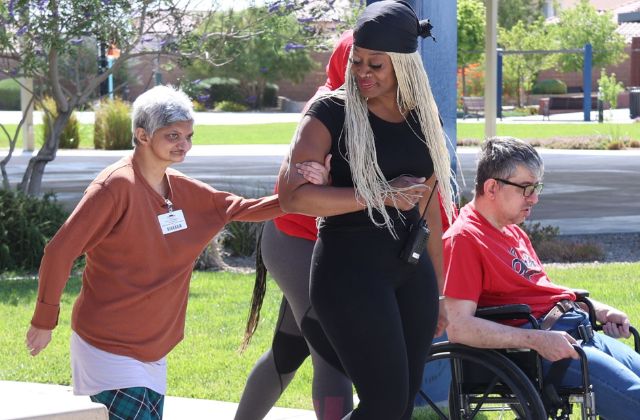 When looking for disability support services in Nevada, you may become inundated with many options after doing a Google Search. While there are many to choose from, it's crucial that you find the right support service for your loved one.
You'll want a support program or service experienced in serving specific developmental and intellectual disabilities. It's also important to know about the type of services that exist to cater to those disabilities and if the disability support services in your area provide them.
To help locate the right support service, we've compiled a list of what to consider when looking for the right support for a developmental or intellectual disability. Below is everything you need to know.
What is a disability support service?
A disability support service assists individuals with developmental and intellectual disabilities. Many services are created to empower individuals and equip them with new skills to gain greater independence and happiness daily. They mainly exist for children, adults, seniors, and caregivers. While some cater to a wide range, there are disability support services with a specific focus on helping:
Apert Syndrome
Autism
Cerebral Palsy
Developmental Delay
Down Syndrome
Fetal Alcohol Spectrum Disorder
Fragile X Syndrome
Kernicterus
Prader-Willi
Phenylketonuria (PKU)
Muscular Dystrophy
Williams Syndrome
Why are support programs or services beneficial?
Professional, personalized disability support programs and services can provide the following benefits:
Elevate emotional and physical wellbeing
Disability support programs and services often create a more inclusive society, connecting individuals to a community.
Specialized day centers, community programs, and more have resources in place to encourage individuals with disabilities to form new friendships and easily enjoy social activities. As a result, they often have a greater sense of confidence, self-esteem, and independence.
Help individuals gain transferable skills
One of the best things a support program can offer your loved one is that they often help them develop real-world skills. If there are restricted places for learning and developing them in public, disability support services give them a safe place to cultivate them.
The right program can be remarkable at seeking out each person's individual talent, allowing them to recognize and use it to their benefit. It's a win-win for caregivers as well, as individuals often feel more confident and can take on more challenging tasks on their own if they do not live independently.
Depending on the services offered at a disability support program, individuals can often better their social interaction, independent living skills, problem-solving, employment skills, computer skills, travel planning, budget and financial management.
Some programs even provide services involving job placement, connecting them to jobs, coaching, and helping them with technologies to overcome common workplace barriers.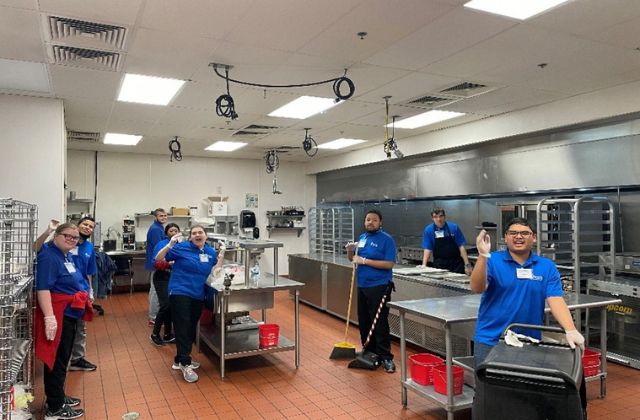 They're cost-effective
Support programs and services can be more affordable than other alternatives like nursing homes, in-house caregivers, and living communities. Day programs, in particular, strongly focus on individuals living at home and staying independent for as long as possible.
What's advantageous for you as a caregiver is that many payment plans are available for day programs and services. For instance, many are subsidized, others accept insurance, and others allow you to pay out of pocket.
Gives you time back
While there are many benefits for disability support services for individuals, there's a major advantage for you as a caregiver. It provides you with time to tend to your own needs! This means you can cross off those errands you've wanted to tick off for some time, visit friends or your workplace.
What types of services exist?
One of the reasons why disability support services are so remarkable at enhancing the lives of those with disabilities is because they offer variety in an individual's life. Day programs are created to help provide education, support and engage individuals during the daytime. Some of the main services day programs offer are:
Therapeutic Services
Often, many day programs offer activities to help promote good health. Some connect them directly to physical or occupational therapists or have programs involving their lifestyle, nutrition, wellness, and personal care.
Vocational training
Some services allow individuals to learn the necessary skills required for jobs and help connect them to their vocational interests. Some help them with career counseling and job training and help them with a job search for employment.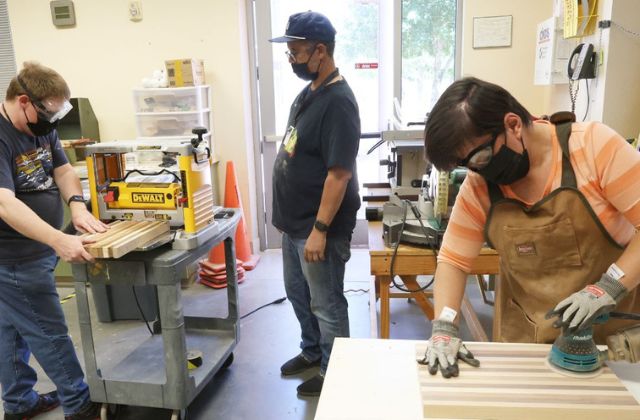 Social Programs
Social programs help people find a greater connection by giving them a space to interact socially with others. They can make new friends through community-driven activities, group outings, and events, giving them a greater sense of belonging.
Arts/recreation
Your loved one can also get in touch with their creative side by participating in recreational activities. Many programs provide arts and crafts, gardening, sports, dance, and theater to help improve their physical, emotional, and social wellbeing.
Other disability support services
Alongside day programs, there are also other types of disability support services available such as:
Assisted Living
If you're caring for an older individual, assisted living may be an option. This involves them moving into a residential setting and receiving higher support than typically gained from a day program. While they focus on residents living independently, they offer more hands-on help like medication management, housekeeping, feeding, and social programs.
Group homes
These are residential care homes where individuals with disabilities live together and receive round-the-clock care. Often these homes serve as a supportive environment to help with their daily living needs, which are more complex to manage than those in assisted living.
Respite care
If you're a caregiver, this service provides short-term relief for an afternoon, day, or a couple of weeks. Respite care can happen in the home, at a day center, or at a residential center. Respite care involves trained professionals helping with bathing, grooming, eating, medication, exercise, and sleeping needs. There's also group respite care at which trained providers offer art classes and entertainment programs.

How to get help
When it comes to seeking support for disability support services, you're not alone. A few organizations exist to help make life easier for you and your loved one. Here are some you might want to consider:
Governmental resources
You might want to check out state-funded programs such as the Nevada Bureau of Vocational Rehabilitation. They help people with disabilities gain more independence by providing vocational training, counseling, and support to gain employment. Programs like these are state and federally funded, saving you money.
Another you might want to consider is the Nevada Governor's Council on Developmental Disabilities, which provides support to those with developmental disabilities. They regularly look for cost-effective ways to help people gain independence and support.
Community organizations
Another option to explore is community organizations. These organizations operate on a nonprofit basis and entirely dedicate themselves to bettering the well-being of individuals in the community.
At Opportunity Village, we're exactly that and have been helping individuals with disabilities since 1954. Funded by social enterprises, signature events, and philanthropy, we provide hands-on support. Here, people can engage in community employment, workforce development, day services, social recreation, gain independence, unleash creative passions, and more.
Private care
There are also private care disability support services that provide personalized care and support. Often they can be specialized, home-based, through respite, and provide more assistance with your daily activities.
How to pay for services
There are several ways you can pay for disability support services; some can be through:
Government funding
Health insurance
Fundraising
Financial assistance or grants via nonprofits
Personal funds
Bottom line
Overall, disability support services can enhance the quality of life for many individuals. Many are designed to help them connect to the community, gain more independence, teach vocational skills, and allow them to enjoy life.
At Opportunity Village, we're empowering, employing, and serving people with disabilities to help them become the best version of themselves. Learn about our programs and services here.