The Magical Forest at Opportunity Village returns Nov. 24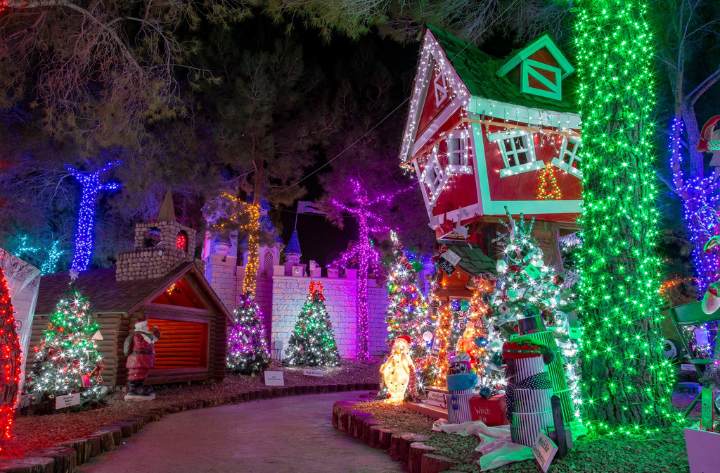 The Magical Forest at Opportunity Village returns Nov. 24
LAS VEGAS (October 24, 2023) – Join Opportunity Village at the Magical Forest and celebrate the holidays while supporting adults with disabilities in the Las Vegas community. Tickets for the Magical Forest are on sale now at www.MagicalForest.com.
The Magical Forest at Opportunity Village officially opens for the 2023 holiday season at 5:30 p.m. on Nov. 24 with a tree lighting ceremony featuring local dignitaries and entertainment, including a performance by singer Daniel Emmet. Since 1992, the Magical Forest has brought Las Vegas families and visitors holiday joy, and this year promises to be one of the best yet. The park is open select evenings throughout November and December.
As one of the primary fundraisers for Opportunity Village, attending the Magical Forest directly supports people with disabilities in Southern Nevada.
Admission to the Magical Forest includes unlimited rides, midway games, mini golf, the Magical Forest holiday lights walking path, and trips on the Forest Express train. Forest goers can also meet Santa in his cabin, and indulge in holiday food favorites such as hot chocolate or the upgraded Magical Forest burger featuring Secret Santa sauce. The Holiday Shoppe and retail kiosk sell gifts, goodies, and treats throughout the season.
The Magical Forest at Opportunity Village is open:
Dates: Nov. 24-26, Nov. 30-Dec. 3, Dec. 7-10, Dec. 14-31 (closed Dec. 25)
Times: 5:30-9 p.m., Sunday-Thursday; 5:30-9:30 p.m., Friday and Saturday
Box office closes 30 minutes prior to park closing. On Dec. 24 and 31, the park closes at 8:30 p.m.
Location: Opportunity Village, 6300 W. Oakey Blvd., Las Vegas, NV 89146
Cost: Tickets start at $24 if purchased online at www.Magicalforest.com. Tickets are on sale now.
Stay updated by following the event's social media accounts on Facebook, Instagram, and Twitter @MagicalForestOV.
About Opportunity Village
Since 1954, Opportunity Village has been dedicated to helping people with disabilities find the very best version of themselves. Through workforce development, community employment, day services, inclusive housing, arts and social recreation, they are able to find new friends, realize future career paths, seek independence and community integration, and unleash creative passions. Opportunity Village thrives with the funding from our social enterprises, signature events and the generous philanthropy of our donors and community partners. Together, we are successfully empowering, employing, and serving people with disabilities – positively impacting lives. For more information on Opportunity Village, visit www.opportunityvillage.org.
MEDIA CONTACT
Laura Foster, Opportunity Village
702-268-8658 or Fosterl@opportunityvillage.org