Keep, Throw, Donate: The Essential Guide to Spring Cleaning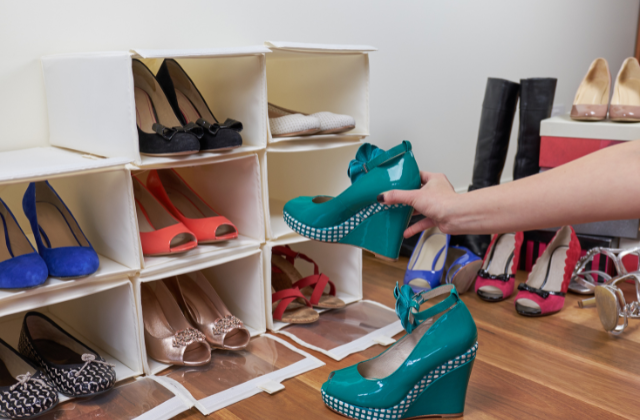 Spring is in the air, and it's the perfect time to clear out the clutter from your home. Not only does spring cleaning refresh your living space, but it also brings numerous benefits, such as reduced stress, improved organization and the opportunity to donate to those in need.
To help with your cleaning efforts, we've compiled a handy guide to help you determine what to keep, throw, and donate during your spring cleaning journey. Our "how-to" resource includes a list of acceptable and unacceptable donations, as well as tips and tricks to make the process a breeze. So, grab a trash bag, some boxes and get ready to tackle your home room by room.
The Process of Spring Cleaning
Step 1: Sort through items room by room
To get started, go through each room in your home, one by one. Start by removing all the items from the closet, drawers, and shelves and place them in the center of the room. This way, you can see everything in one place, making it easier to determine what to keep, throw away or donate.
Tip: take photos of each room before you start. This will not only help you remember how the room was organized, but it can also provide a helpful reference if you need to revisit a decision about an item. And as a bonus, you can use these photos to track your progress and give yourself a sense of accomplishment as you work through each room.

Step 2: Make a keep pile, a throw pile and a donate pile
As you go through each item, decide if it's something you still use or if it's just taking up space. For items you still use, put them in the keep pile. For items you no longer need or use, put them in the throw pile. And for items that are still in good condition but you no longer need, put them in the donate pile.
Tip: set up dedicated storage bins labeled in your garage or a spare room. Year round, you'll be able to declutter as you go. Once the donate container is full, do a trip to your local charity.

Step 3: Assess the condition of the items in the donate pile and determine if they are acceptable for donation
Now that you have sorted through your belongings, it's time to assess the condition of the items in the donate pile. Make sure the items are in good condition and are still usable before donating them.
Tip: Before donating items, try repurposing or upcycling them first. For example, an old piece of furniture can be given a fresh coat of paint or a new fabric slipcover to make it look like new. You might be able to find new life for an item that you would otherwise have tossed, and it's a sustainable way of reducing waste.
Acceptable Donations
It's important to remember that charities rely on donated items to help those in need, so it's crucial that the items you donate are in good condition and still usable. Donating broken, worn out, or unusable items only creates more work and expense for the non-profit and takes away from their resources, which could be better used to help others. When evaluating items for donation, you can ask yourself the following questions to determine if they are worth donating:
Is the item in good working condition?
Is the item free from any damages or tears?
Is it clean and presentable?
Would you be comfortable giving this item to a friend or family member?
Is the item still relevant and in style?
By answering these questions, you can make a more informed decision on what to donate and what to keep or dispose of, ensuring that you are not creating more work for the charity by donating items that are not usable.
Still not sure if it's up to scratch to donate? Refer to the following table for an example of items and their condition accepted by the Opportunity Village Thrift Store along with suggestions on what to keep, throw or donate.
For the Table bellow, Please use side Scroll,  Find what to throw away and what to Donate!
Item
Keep
Throw
Donate
Clothing & Shoes
Hand-me-downs for your next child or sentimental items, like grandmother's wedding dress
Clothing that has rips, stains or heavy wear
Clothing in good condition that you no longer want or need
Purses/Jewelry/Belts
Special occasion or sentimental items, repurpose for child dress-up games
Items with damage, cracking, missing pieces or heavy wear
Items in good condition that you no longer want or need
Linens (sheets, tablecloths, towels)
Repurpose for pet use, painting drop cloths or rags
Linens with rips, stains or heavy wear or see "keep" column
Linens in great condition that you no longer want or need
Books & Magazines
Use images in magazines to create vision boards
Books that are missing pages, falling apart or damaged. Recycle magazines, which are not in acceptable condition
Books that are in good condition free of water damage, mildew and binding intact
CD/DVD/Blu-Ray
Keep a few kids DVDs or CDs for future grandkids – or use in the garden to scare birds 💿
Scratched, damaged or copied media
Gently used CDs, DVDs, and Blu-Rays in good working condition, with all original cases and artwork
CD/DVD/Blu-Ray Players
Keep players that you are using actively or save for a child going to college in the near future
Media players that do not work or are missing remote/cords
Working media players that include their remotes and cords
Housewares
Fine China or silver serving wear to hand down
Pieces with chips, cracks, or stains and small appliances that have heavy wear or missing pieces
Gently used and clean kitchenware, such as dishes, pots, pans, and small appliances
Furniture
Family heirlooms or pieces that you are saving for a child moving out of your home in the near future
Furniture with fabric that is stained or ripped or that is unstable or broken
Furniture such as couches, dining tables, dressers and chairs in good condition
Toys/Games
Those that bring you joy 🧸
Toys/games that are broken or missing pieces or those that have been recalled
Toys and games that are free of damage or heavy wear with all pieces included
Musical Instruments
An instrument you or your child plan to play again or a family heirloom
Musical instruments with cracks, dents or damage that would interfere with play
Gently used musical instruments in good working condition
Sporting Goods
Tennis balls for your pup
🐕
Goods that have heavy wear or damage
Sporting equipment, such as balls, bats, and gloves that are in good condition
Computers/Laptop
Keep what works and you are actively using
Laptops and computers that are over 3 years old or are not working – be sure to recycle responsibly!
Newer models (1-3 years old) in good working condition with all cords and accessories. Restore to factory settings
Flat Screen TVs
Consider adding an extra TV in your garage, outdoor patio or kitchen
Tube-style TVs or flat screens with damage or aren't working
Flat screens of all sizes that are in good working condition
Tools
One or two vintage tools from your dad or grandpa
Tools with damage or rust, plumbing fixtures, paint, auto parts
Gently used and clean tools in good working condition free of rust, broken or missing parts
Home Décor/Framed Art
A few special pieces of your child's artwork OR take a picture before discarding
Décor or art that is damaged or stained
Clean home décor and framed art in good condition
Unacceptable Donations
During the process of spring cleaning, it is essential to understand what items cannot be donated to charities. Charities cannot accept items that are dirty, broken, or unsafe as they are unable to sell these items.
Some common examples of things that can't be surrendered include items that are soiled, stained, torn, or have a strong odor. Electronics that are broken, outdated, or do not work properly also cannot be donated. Similarly, items that are unsafe, such as items with sharp edges or those that have been recalled, should not be donated.
If you come across items that are not suitable for donation, it is essential to dispose of them properly. For example, electronics can be recycled, and items such as clothes, linens, and stuffed toys can be repurposed or donated to organizations that use them for crafting. Additionally, hazardous items such as batteries, pesticides and medical waste should be disposed of in a safe and responsible manner.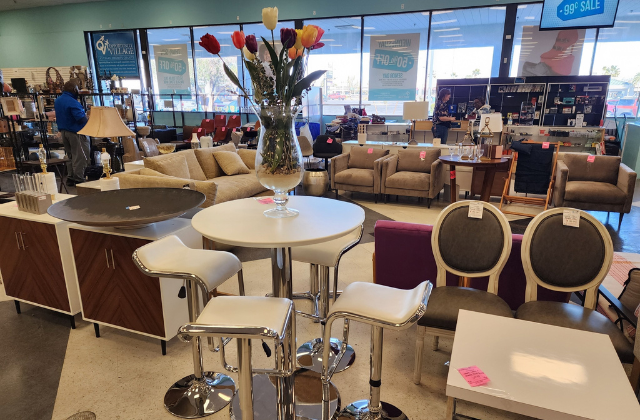 It's Time to Take Action
Now you have a plan, it's time to simplify and streamline your living space. By following the steps of sorting through items room by room, evaluating their value and condition, and assessing their potential for donation, you can effectively determine what to keep, throw and donate. Clamping down on clutter will not only benefit you, but also those in need.
As you spring clean remember to consider donating your gently used items to organizations such as the Opportunity Village Thrift Store. Also, take time to properly dispose of old and sensitive documents by shredding or scanning them with the help of PaperPros.
Remember, supporting your local thrift store by shopping and donating items helps to provide a source of revenue for the store while giving back to the community. Happy spring cleaning!