Is a Job in Non Profit Right for you?
Do you love helping people? Do you want to change the lives of others for the better? Do you want to create a career with impact?
If you answered yes to the above questions, working at a non profit can be an exciting and rewarding career choice. But what is a non profit?
A non profit organization (NPO) is focused on furthering a particular social cause or advocating for a shared goal or mission. There are limitless examples of shared points of view, but to give you an idea, some include charitable, educational, literary, scientific, religious, public safety or cruelty-prevention.
Social enterprises are another hot topic creating lots of buzz. You may have come across the term before. Social enterprises use earned revenue to address a social issue rather than maximizing profits for external shareholders. They can be structured as a for-profit or non profit. An example of a non profit social enterprise is Opportunity Village.
Data from the National Center for Charitable Statistics (NCCS) reveals more than 1.5 million non profit organizations are registered in the United States. Plus, more than a quarter of American adults volunteer each year to support a non profit, and over 11.4 million people in the United States work for those organizations. Could you add to that growing number?
What kind of non profit sectors are in the United States?
The non profit sectors are many and varied. Some of the most well-known examples of non profit organizations in the United States are the Salvation Army, American Red Cross, United Way and the American Heart Association.
The most popular sectors are education, health, and social services, but other areas are:
Arts
Higher education

Environment and animals

Hospitals and primary care facilities

Public and social benefit

Religious
These sectors are instrumental in strengthening communities and providing much-needed services the government can't deliver.
Types of non profit jobs
Looking for job opportunities in the non profit sector is not dissimilar to the experience of working in for-profit companies. A comparison of the two shows both are organized and structured in similar ways and will typically have management positions like executive directors and jobs in accounting, human resources, marketing and administration.
There are a few jobs that are unique to the non profit sector. These roles have the primary function of community building, development and fundraising, which are vital to the organization's performance.
Community Outreach Jobs
Responsible for promoting the vision and mission to the local community to get their support. Some of their responsibilities might be recruiting volunteers, organizing events and other projects to get the community excited and invested.
Development Jobs
Responsible for growing the organization's footprint by fundraising, securing financial support, nurturing donors and other projects in line with the non profits goals.
Grant Writer Jobs
Responsible for applying for and writing grant applications. Donations and grants are a critical revenue stream for non profits, and looking for continued opportunities helps the organization achieve its financial goals.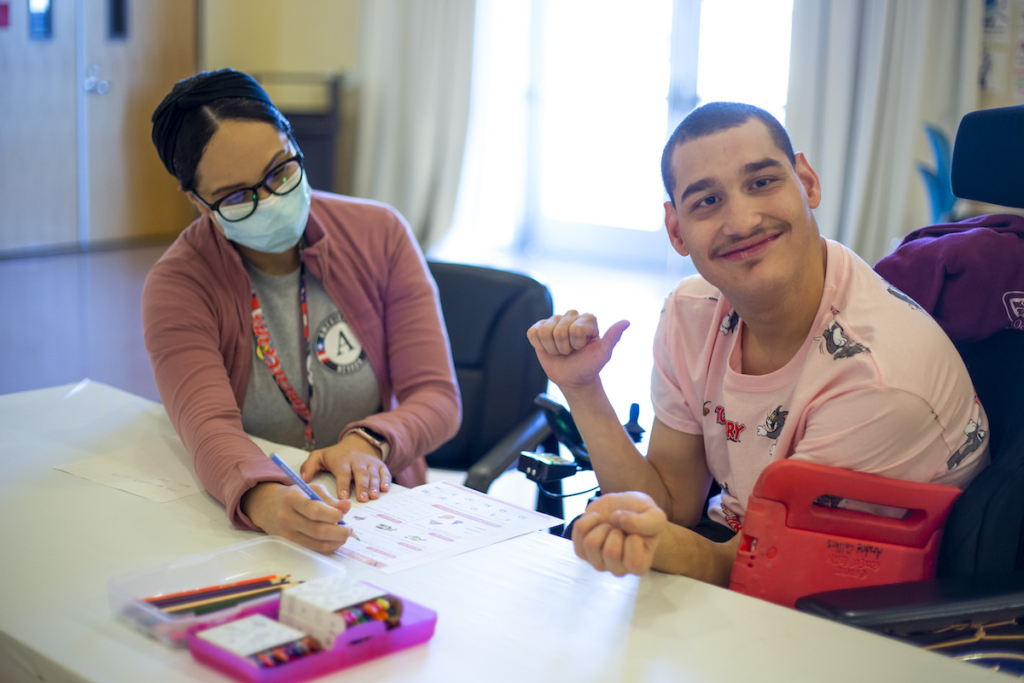 What's it like to work at a non profit?
If you're dreaming of making a career move or starting in the workforce, then non profit organizations can be a great place to work.
At Opportunity Village, we serve people in our community with intellectual and developmental disabilities by enhancing their lives and their families. We also enrich the lives of our employees through varied, rewarding and meaningful work – no two days are the same.
Our staff have a collective mission and steadfast desire to empower the adults with disabilities we serve. Some of the things our employees say are:
"We're a family."

"I love working at Opportunity Village because of the people."

"My job is great because every day, I witness our great staff impacting the lives of the most important citizens of Las Vegas."

"Every day, we have an opportunity to make a positive impact in our members' lives."

"I enjoy working with Opportunity Village because of the people we serve…the love and joy they bring to us on a daily basis and how they affect our lives."

"Every day I walk through the doors of OV, I'm reminded of how lucky I am to be part of such a wonderful organization."
Features and benefits of working in a non profit
There are plenty of advantages to working for a non profit. You only need to look at the benefits of volunteering to understand the positives of working for a non profit – including mental, emotional and physical benefits.
Aside from the feel-good serotonin you get by positively impacting the world through work, there are other perks. For example, at Opportunity Village, we offer a wide array of benefits such as health, dental and vision insurance, retirement savings accounts, training and development opportunities.
How to get a job in the non profit sector
The non profit area represents over 10% of all jobs in the United States, according to the Bureau of Labor Statistics. It's also the third largest sector in the country, making it a ripe area for employment opportunities.
If you are interested in working for a nonprofit, here are some ways to get hired.
Know your passion – look at what causes you already feel passionate about, donate to or volunteer your time.

Give your time – volunteering at a non profit is a great way to get a taste of the organization and decide if it's right for you. Also, you'll have an insider's view of any upcoming job opportunities giving you a competitive edge to get your foot in the door.
Look for internships – an internship is a great 'try before you buy' starting point into non profit organizations. It's also a great way to build the required skills quickly, and many internships lead to employment.
Build a network – social media can easily help you connect with people already working in the space or look for local networking events to meet people.
Non profit career pages – many organizations will list their current opportunities on their websites. Finding those job opportunities are just a click away.
After reading all of these points, are you thinking that a non profit job is right for you? If so, we'd love to talk to you about joining us at Opportunity Village. You can view our open positions and apply on our Careers page.