Opportunity Village And AbilityOne Working Together to Make a Difference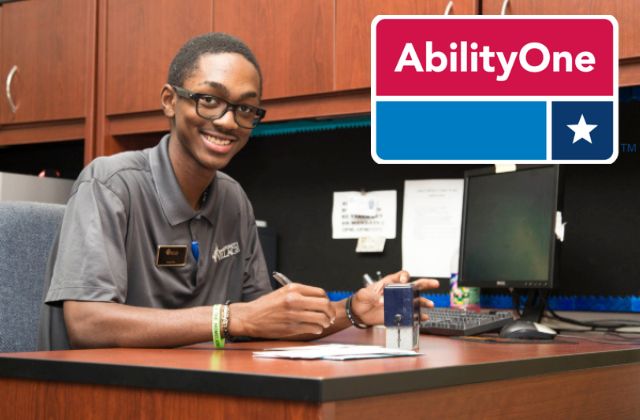 Opportunity Village has been in partnership with AbilityOne since 2008. Through SourceAmerica, an employment nonprofit creating career opportunities for those with disabilities, Opportunity Village and AbilityOne carry a variety of federal contracts, including those with:
· Red Rock National Conservation Area
· 6th Army Recruiting Brigade
· Crosswinds Air Force Base
· General Services Administration
· Touch & Go Air Force Base
· United States Bureau of Reclamation
Currently, Opportunity Village employs more than 60 individuals with disabilities through AbilityOne program partners. Working with AbilityOne is important to Opportunity Village, as the partnership enables the organization to employ more individuals throughout our local communities in positions where they can flourish and thrive.
Our Opportunity Village employment opportunities with AbilityOne cover different skills-based careers. All of the products and services provided meet only the highest-quality standards, and all are offered to federal government organizations are competitive fair market prices. Some of the products we provide include promotional products and branded merchandise, or packaging and assembly, while services include warehouse and fulfillment services, printing and mailing, document management, and custodial services.
Established in 1938, the AbilityOne program has been offering employment and training assistance to those with disabilities for over 85 years. Nonprofit organizations working alongside the program must produce quality supplies and services and must maintain at least 75% direct labor employees who have disabilities. At Opportunity Village, our relationship with AbilityOne is one of our most celebrated and proud partnerships.
Positive employment outcomes are important for anyone, but even more so for those who may face challenges due to disability. Our partnership with AbilityOne is an important one, and we encourage anyone to learn more about what AbilityOne is and what it can do for people with disabilities across the United States.
What is AbilityOne?
AbilityOne is one of the single largest employment sources in the United States for people with disabilities. Using a network of more than 450 nonprofit agencies, and employing more than 40,000 people, the AbilityOne program supports small businesses and provides necessary products to federal government agencies at fair market prices. In short, AbilityOne has a focus on helping those with disabilities achieve economic independence through high quality work opportunities and experiences.
Small businesses are a big part of any community, and AbilityOne is a big supporter. AbilityOne nonprofit agencies partner up with small businesses throughout communities in the United States, to the tune of $217 million per year. Currently, 250 small businesses throughout the United States are AbilityOne employment outcomes partners.
How AbilityOne Works
First, the program teams up with nonprofit organizations throughout the United States. These participating nonprofit organizations are the access link for AbilityOne employment outcomes partners to reach people with disabilities looking for opportunity and financial independence. Nonprofit organizations may also team up with local small businesses to work together to secure employment within the community.
AbilityOne participants provide services or products to qualified government organizations. The AbilityOne commission maintains a "procurement list" of different products and services it offers, which may then be purchased by the qualified government organizations for fair market price.
Products offered on the procurement list may include clothing and textiles, food processing, office supplies, recycled products, cold weather kits, or medical supplies like surgical masks or medical catheters.
Services found on the procurement list may include things like custodial services, document management, food service, grounds maintenance, laundry services, facility management, or mail or document services.
The skill levels and work opportunities offered through the AbilityOne program are numerous; hitting on different talents, interests, and skills to translate these into high-quality job opportunities.
AbilityOne is considered a Priority Program in accordance with the Competition in Contracting Act. This means that government organizations looking for products and services will look to AbilityOne employment outcomes partners before looking to some other sources.
In short, the AbilityOne program teams up with nonprofit organizations, these organizations are employment outcomes partners for those with disabilities, and they help to place these employees in positions to provide government organizations with needed materials and services.Employment could involve working with a small business to provide materials to these federal government organizations, it could involve working in a larger facility to supply products, or it could involve working on-site providing important and necessary services.
General Benefits Of the AbilityOne Program
The AbilityOne Program provides benefits to local businesses, to government agencies, to taxpayers, and to those with disabilities in communities across the United States.
The program benefits the government organizations who use services and taxpayers at the same time. By providing high quality services and supplies at reasonable prices, by reduced reliance on disability programs and increased tax revenues, and by cutting down on paperwork or administrative costs that may accumulate through traditional hiring processes, government organizations save time while taxpayers save money. The program puts people with disabilities into the workforce with meaningful employment that has the power to change lives.
Small businesses across the country face a great deal of competition. By partnering with nonprofit organizations who work with the AbilityOne program, these employment outcomes partners are able to secure long-term supplier relationships for their products or services with federal government organizations. They're able to uplift their communities by providing meaningful work to those with disabilities while being paid to provide important products on a long-term basis.
Programs like AbilityOne are beacons of opportunity for those with significant disabilities who may find trouble securing meaningful employment elsewhere. AbilityOne nonprofit partners work with these individuals to find suitable skills-based work for various federal agencies, allowing them to flourish in well-paying jobs that make a difference within their communities.